When: Sunday, September 1st, 2019

Where: 860 Terry Ave N, Seattle,

WA 98109-4330, United States

Boarding at 7:00 p.m. | Departs at 7:30 p.m.

Tickets $30.00 Now & $35.00 @ Door
Las Molas Association invites you to our next event! Sunday, September 1st, 2019. We'll have Panamanian food and the best latin music presented by DJ Tapatio. You'll dance the night away this Labor Day Weekend!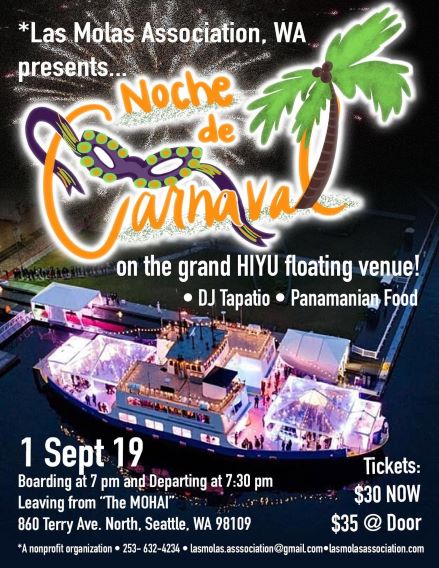 Join us to our TARDE CRIOLLA!
Date: JULY 20, 2019
Time: 1:00 p.m. - 6:00 p.m.
Address: 7250 Cirque Drive West, University Place, WA 98467
Don't miss our Tarde Criolla this summer! Come and try our delicious Panamanian food. We'll have music and be naming the 2019 Raíces Panameñas Queen. Be sure to bring your family and friends for a fun afternoon of great food and Panamanian culture!